Make sure everyone has their own supplies in their own kit
in case family members are separated
STOCK EMERGENCY SUPPLIES AND ASSEMBLE AN EMERGENCY SUPPLIES KIT.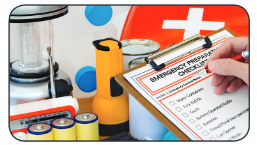 Review the information below. Gather the needed supplies that are listed. You may need them if your family is confined at home or compelled to evacuate. You may also need more than one type of kit, plan accordingly.
Place the supplies you would most likely need for an evacuation in an easy-to-carry container. Possible Containers Include:

A large, covered plastic container
A five-gallon bucket
A backpack.
A suitcase with wheels
A duffel bag.

Try to have enough supplies for a minimum of four days.

Make sure everyone has their own emergency supplies kit.
➤ 7 Basics of a Disaster Supplies Kit:
Water
Food
First Aid Supplies
Clothing and Bedding
Tools & Emergency Supplies
Special Needs items and Medications
Important documents
***Remember to include the things you need and use on a regular basis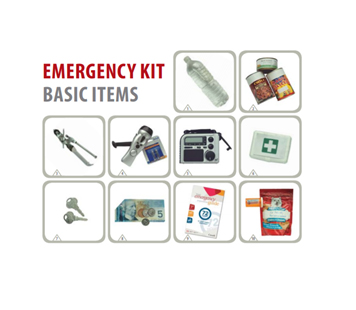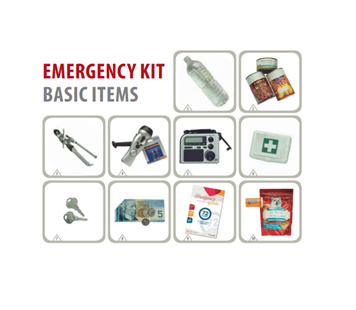 Every family member should have a disaster supply kit with essential food, water and supplies for at least four days. This kit should be kept in a convenient place, ready to "grab and go" in case you have to leave your home quickly because of a disaster, such as a flash flood or fire. Make sure all household members know where the kits are kept. Update kits regularly.
Water
Store water in plastic containers, such as soft drink bottles. Avoid using containers that will decompose or break, such as milk cartons or glass bottles. A normally active person needs to drink at least two quarts of water each day. Hot environments and intense physical activity can double that amount. Children, nursing mothers and those who are ill will need more.
Store atleast one gallon of water per person, per day. Households should have a minimum of a two week supply of water.
Keep at least a four-day supply of water per person in your disaster supply kits, two quarts for drinking, two quarts for food preparation/sanitation.
Don't forget water for your pets.
Treat all water if unsure of its purity, before using it for drinking, food preparation, or hygiene. Before treating, let any suspected particles settle to the bottom or strain through layers of paper towels or cloth.
Water can be safely treated by: 1. Boiling for 10-12 minutes, let the water cool before drinking, or 2. Adding 6-10 drops of bleach per gallon of water (don't use color-safe bleach). More bleach is not better, too much can make you ill. Make sure all stay hydrated, as dehydration is not a problem you want to have. You can never store too much water. Rotate your water supply periodically to keep your supply fresh.
1 gallon per person per day (at minimum)
Obtain a good water filter
Food and Food supplies
Store at least a four-day supply of nonperishable food
Select foods that require no refrigeration, preparation, or cooking and uses little or no water.
Choose foods that your family will eat. Avoid foods that will make you thirsty.
If you must heat food, pack a can of Sterno. Select food items that are compact and lightweight.
Include a selection of the following foods in your Disaster Supplies Kit:

Ready-to-eat Canned Food: meats, beans, vegetables, fruit, pasta, rice, cereal
Canned soup (if powdered, store extra water)
Beverages (bottled, canned, boxed): juices, water, soda, coffee, tea, powdered drink mix, etc.
Staples: sugar, flour, salt, pepper, baking soda, baking powder, spices
Carbohydrates: Cereals, Breads, Granola bars, trail mix, crackers, dried fruits, breakfast bars
Proteins: Peanut butter, nuts, meats, protein bars
Sugars: Syrup, non-melting candy, cookies
Vitamins
Special foods (for infants, elderly, special diets):_______________________________________
Comfort/stress foods: cookies, hard candy, sweetened cereals, instant coffee, hot chocolate, etc
Other:
Cooking supplies,
Mess kit or
Plate, bowl, cup, spoon, fork, knife
Utility knife,
manual can opener,
small cook stove
pot for cooking
paper towels
First Aid Supplies
Assemble a first aid kit for your home, one for each car, and a small one to carry with you.
First aid kits are a must have for every family. First aid kits are necessary so that you can treat ailments and injuries that happen at home or while traveling. From the minor cut, to the more serious injury, a first aid kit can help reduce the risk of infection or the severity of the injury. First aid kits include a variety of items that will help treat cuts, scrapes, and injuries including sprains, burns, and other ailments that are common. You can either buy a prepared first aid kit or you can prepare your own first aid kit using the list below. Make sure to put your first aid kits in easy to access places so that anyone can access the kit in the case of an injury.
Many injuries are not life-threatening and do not require immediate medical attention. Knowing how to treat minor injuries can make a difference in an emergency. Consider taking a first aid class to know how to treat injuries and utilize all the supplies in a first aid kit, but simply having a first aid kit can help you stop bleeding, prevent infection, and assist in decontamination. First aid kits can range from simple to very detailed. A small simple first aid kit should be carried to aid in small emergencies such as a cut or a scrape. When something more severe happens, having the right skills and equipment will help to give first aid. At its most basic, first aid is the initial assistance given to a victim of injury or illness. Having a kit on hand will help you and could potentially save a life.
A more detailed first aid kit should be kept at home, while a smaller sized detailed kit should be kept in the car for emergencies away from home.
A Basic Kit should include:
Sterile adhesive bandages in assorted sizes
2-inch sterile gauze pads (4-6)
4-inch sterile gauze pads (4-6)
Hypo-allergenic adhesive tape
40-inch triangular bandages (3-rolls)
2-inch sterile roll bandages (3-rolls)
3-inch sterile roll bandages (3-rolls)
Scissors and tweezers
Epi pen (if allergic to bee stings)
Small Sewing kit
Moistened towelettes/wet wipes
Antiseptic soap
Antiseptic solution – iodine compounds
Antibiotic Ointment
Hydrocortisone Cream
Thermometer
Tongue depressors (2)
Tube of petroleum jelly (Vaseline or lubricant)
Safety pins in assorted sizes
Cleaning agent/soap
Vinyl gloves (2 pairs)
Scissors
N95 Masks 6+
Paracord or rope
Superglue
Matches
Light Source
Magnifying glass
Fels naphtha soap- to wash off poison Ivy, oak or sumac from skin and clothes (also a great clothes detergent)
Entertainment and comfort candy
Over-The-Counter Medications and Prescription Medications
Ibuprofen (Advil)
Acetaminophen (Tylenol)
Aspirin
Anti-histamine
Imodium/Loperamide
Sudafed (or an equivalent)
Throat lozenges
Cold/Flu medications
Bismuth tabs
Oral rehydration
Dramamine
Stool softener (laxative)
Miconazole/Anti-fungal cream
Sun screen
Insect repellent
Caladryl or generic equivalent
First aid manual
Rubbing alcohol
Cotton balls
Witch Hazel for bug bites and hemorrhoids
Mylar Blankets (2)
List of any family members with allergies and treatment
Contact information for family doctor, dentist, and emergency contact numbers for family members (work and cell)
An Advanced First Aid Kit should also Include:
Small tool set
Duct Tape
Thermometer
Q-Tips
Large all-metal trauma shears
Nail clippers
Treating wounds is not always a simple ordeal – especially trauma – and it is often a job that is best left to the professionals. But in a survival situation, it may be your responsibility to treat these injuries to the best of your ability. Realistically, outside of a hospital, no one is prepared for every medical emergency. Wounds can be ugly. Trauma can be horrifying. But here are some tools that will help prepare you for both:
Blister Treatments
Molefoam
Moleskin
2nd skin
Medical tape
Other Wound Treatment Tools
Out box of Nitrile gloves, LOTS and LOTS
Irrigation syringe
Sterile gauze pads, 5+
Steri strips and butterfly bandages to close minor lacerations
Multiple size Ace Bandages, x2
Triangle bandages, x2
Steri-strip or butterfly closures, 3+
Maxi Pads and tampons- multi use materials
Sam-splint / moldable foam splint
Israeli bandage
Suture kit
Iodine
Clothing and Bedding
Staying warm and dry is important to your safety and health. Having the correct type of clothing will help you stay well and be able to perform tasks better.
Include at least one complete change of clothing that can be layered, and good sturdy footwear per person
Have multiple pairs of socks to reduce blisters and other foot problems
Items to help keep you warm and dry should also be included
Keep all clothing and bedding from getting wet
Change of clothes (according to season and work)
Socks
Underclothing
Cap
Winter hat and Winter Gloves
Thermal underclothing
Sunglasses
Watch
Jacket
Sweatshirt
Rain Gear
Work Gloves
Sturdy shoes or boots
Blankets
Sleeping Bag
Travel Pillow
Plastic Sheet or Tarp
Tools and Supplies
Small tools and other supplies will help you be more comfortable and safe depending what situation you may find yourself in.Items such as work gloves, safety goggles, a flashlight or headlamp, and extra batteries will help keep you from getting injured.
SAFETY
safety goggles,
gloves
N95 mask
Sturdy shoes or boots
Whistle
LIGHT
a flashlight or headlamp, and extra batteries
Solar Powered lights
Lantern
Candles
Light Sticks
COMMUNICATION
Battery powered radio
Family radio service radio
Permanent Marker
Paper, Pencil, Pen
SHELTER
Tube tent
Emergency blanket
Large Tarp
Tent if there is space
Shut-off wrench to turn off household gas and water
Whistle
Binoculars
Axe/Hatchet
Saw or chainsaw
Crowbar
MISC SUPPLIES
Cash in small bills and coins
Plastic sheeting
Plastic storage containers and bags
Plastic Garbage and heavy duty bags
Plastic zipper type bags different sizes
Extra set of car and house keys
Map of the area (for locating shelters and evacuation routes)
Scissors
Comfort items
HEAT
Matches in a water proof container or lighter
Candles
Propane heater
Aluminum foil
Fire extinguisher: small canister ABC type
POWER
Batteries
Rechargeable Batteries
Solar and other charging tools for electronic devices
Generator (keep far away from house due to carbon monoxide)
TOOLS
Utility knife or multi tool
Small basic tool set
Hammer
Small shovel
Tape/duct tape
Compass
Rope or paracord
Small sewing kit
Entertainment
SANITATION
Toilet paper,
Towelettes,
Soap,
Hand sanitizer,
Liquid detergent,
Feminine supplies and
Personal hygiene items (toothbrush, toothpaste, floss, nail clippers, nail file, chap stick,
Shampoo, conditioner)
Personal Wipes
Tissues
Deodorant/Antiperspirant
Bucket with tight fitting lids
Heavy Duty Garbage sacks
Medications and Special Needs
Every person has different needs. Some need eyeglasses to see, some need an oxygen machine to breathe, others may need insulin or certain medications. Children have certain needs. Babies have different needs and even adults have differing needs according to age. All of these needs should be considered, and supplies added to the emergency supply kit.
MEDICATIONS
Week supply of Prescription medication in original pill bottle if possible
Insulin and supplies
Other over the counter medication that is needed
SPECIAL NEEDS
Eyeglasses
Extra clothing
Entertainment
Toys
Extra snacks and treats
BABIES
Diapers and Diaper changing supplies
Formula
Baby Food and supplies
Clean up cloths and supplies
Contacts, case, saline solution
oxygen machine
C-pap machine
Hearing Aids and extra batteries
Walker/ Wheelchair
CHILDREN
Comfort items
Diaper Rash Ointment
Extra Clothing
Extra pacifiers
Washcloths
Bulb syringe
Baby medications
Extra blankets
Small comfort toys
Important Documents
Should you need to leave your home and are not able to return, it is wise to have important documents relating to your life and insurance to help in the recovery process after the event. Many people don't realize how much of our lives are in paper and how important those papers are, especially when trying to access resources. Make sure you have copies with you and have a set of copies housed somewhere off premises.
Insurance Policies
Bank Account Information
Mortgage Information
Loan Information
Tax Returns
Pension Plans & Retirement Benefit Information
Investment Information
Will and Trust information
Power of Attorney Information
Safe Deposit Box location and location of keys
Professional Advisor Contact Information
Proof of Identity & Relationships
Household Utility Information
Internet site, social media, and e-mail passwords
Medical History
Home Inventory& Appraisals
Family History
Important Contact information for work, school, daycare, church, etc.
Important Reminders:
➤ Store your kits in a convenient place known to all family members
➤ Keep a smaller version of the Disaster Supplies Kit in the trunk of your car and at your office
➤ Keep items in airtight plastic bags
➤ Change your stored water supply yearly so it stays fresh
➤ Replace your stored food every six months
➤ Evaluate your kits and family needs at least once a year. Replace batteries, update clothing, etc.
➤ Ask your physician or pharmacist about storing prescription medications.
Everyday Supplies
Wallet
Purse
Phone
Charger
Charging Cord
Medications
Prepare Your Vehicles
Vehicles are important to our lives. They take us to work, school, church, shopping, events, and take us on our vacations. Because they are a critical part of our everyday lives it is important to have some supplies with you, just in case you are stranded somewhere, or your car unexpectedly cannot run.
If you are evacuating an area or you are stranded in your vehicle, you should make sure your vehicle is prepared to help you leave safely. Use the vehicle checklist to help you create a vehicle emergency kit for each vehicle. Prepare now by storing these items in your vehicle and be sure to rotate the items periodically. Keep vehicles fueled and in good condition by keeping them tuned with regular maintenances checks. Always check weather and road conditions before a trip.
VEHICLE KIT
Water
Food (Snacks, High Calorie bars, but food that doesn't make you more thirsty)
Cash (Small bills and coins)
Jumper Cables
Tire Gauge
Extra fuses and lightbulbs
Basic First Aid Kit
Plastic Sacks
Flares or Roadside Triangles
Small Tool Set
Blankets
Jackets
Good walking shoes
Small Shovel
Kitty Litter or Sand
If you must evacuate your home in a crisis, plan for the worst-case scenario. Even if you think you may be gone for only a day, assume that you may not be allowed to return for several weeks. When recommendations for evacuation have been announced, follow the instructions of local and state officials.
PET SUPPLIES
Get current photos of you with your pets and descriptions of your pets to help others identify them in case you and your pets become separated—and to prove that they are yours once you're reunited.
Make sure all pets wear collars and tags with up-to-date identification information. Your pet's ID tag should contain his name, telephone number and any urgent medical needs. Be sure to also write your pet's name, your name and contact information on your pet's carrier.
Written information about your pets' feeding schedules, medical conditions and behavior issues along with the name and number of your veterinarian in case you must board your pets or place them in foster care.

Food and Water for a week
Leash or harness
Pet Carrier
Food
Collapsible bowls
Litter box
Kitty litter
Scoop
Plastic sacks
Medications and medical records
Grooming items
Play and chew toys
Pet first aid kit